Wooden cigar boxes are high-quality containers that are designed to hold and protect cigars. They are typically made from solid wood, such as mahogany, cedar, or oak, and feature a tight-fitting lid that keeps moisture and air out, helping to preserve the freshness and flavor of the cigars inside.
As a manufacturer, we offer wholesale wooden cigar boxes in a variety of dimensions and configurations to meet the specific needs of our customers. Our wooden cigar boxes can be customized to include features such as dividers, locks, and hinges, and can be finished with a variety of stains, paints, and decorative accents to suit the customer's preferences.
Wood Cigar Box Wholesale Parameters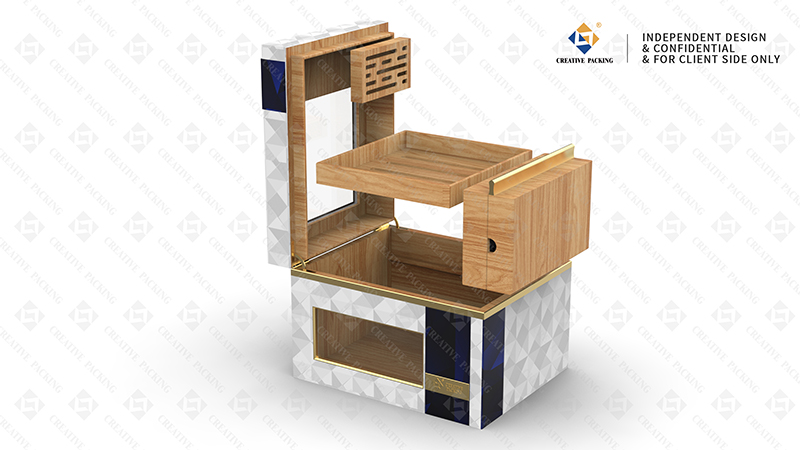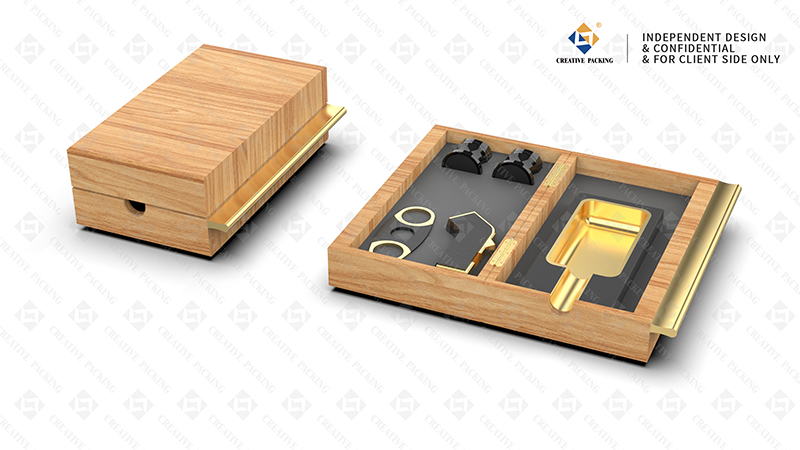 Strictly select imported cedar box material
Apply piano baking varnish for many times
One base color, two colors, multiple touch-ups
Supplied humidifier for raising and storing eggplants is more reassuring
The humidifier is attached. In case of lack of moisture, inject cigar moisturizing liquid or distilled water into the humidifier to keep the humidity in the box
The box body is tightly fitted, and the link gap is<0.1mm, and the opening and closing gap is<1mm
The cedar box is tightly sealed, and the cigar is safe.
The removable shelf design at the bottom of the large capacity double-layer storage area can meet the requirements of different flavors of cigars
The integrated thermometer in the box is convenient to observe the temperature in the box. In case of lack of moisture, properly humidify to keep the humidity in the box.
| | |
| --- | --- |
| Product Name | Wooden cigar box |
| Item No. | CY-H213 |
| Brand | CREATIVE PACKING |
| Material(FSC&No FSC) | Cedar Wood, Acrylic, humidor etc. |
| Size | Customized is available. |
| Surface Effect | Painting/coating,Burned color,Stain color,Antique color,Veneering,etc |
| Logo | Silk Screen,Hot Stamp,Laser,Embossment,Color Painting,Water Transfer,Freehand Sketching,etc |
| Payment Terms | T/T,L/C,D/P,D/A,Draft,Western Union,Paypal,etc |
| Sample Time | Within 7-9days based on customized item |
| Sample Fee | Paid by Client,Prepaid |
| MOQ | 500 pcs |
| Package Method | Polybag,Bubble bag,Shrink,Colored Pack,Foam board,Mail pack,Silk paper,White box,Brown box,Blister,etc |
| Certificate | ISO9001,SA8000,FSC,Fumigation,Phytosanitary certificate,etc |
| Delivery Time | Within 15-45days based on item quantity |
| Using Range | wood crafts |
Frequently asked questions about Wood Cigar Box
Commonly asked questions and answers regarding wooden cigar boxes:
Q: What are the benefits of using a wooden cigar box?
A: Wooden cigar boxes offer a number of benefits, including protection from moisture and air, which can damage the cigars and affect their flavor. They also provide a stylish and sophisticated way to store and display cigars.
Q: What types of wood are typically used to make wooden cigar boxes?
A: The most commonly used woods for cigar boxes include mahogany, cedar, and oak. These woods are prized for their durability, beauty, and ability to repel insects and moisture.
Q: Can wooden cigar boxes be customized to fit my specific needs?
A: Yes, we offer custom wooden cigar boxes that can be tailored to meet the specific dimensions and features that you require. Our team of experts can work with you to design a box that meets your exact specifications.
Q: Do wooden cigar boxes come with locks or other security features?
A: Yes, we can add locks or other security features to your wooden cigar box to help keep your cigars safe and secure.
Q: How do I care for my wooden cigar box?
A: To care for your wooden cigar box, it's important to keep it clean and dry. Avoid exposing it to moisture or extreme temperatures, as this can cause the wood to warp or crack. You can also periodically apply a wood conditioner or polish to help maintain its natural luster and beauty.
Packaging box: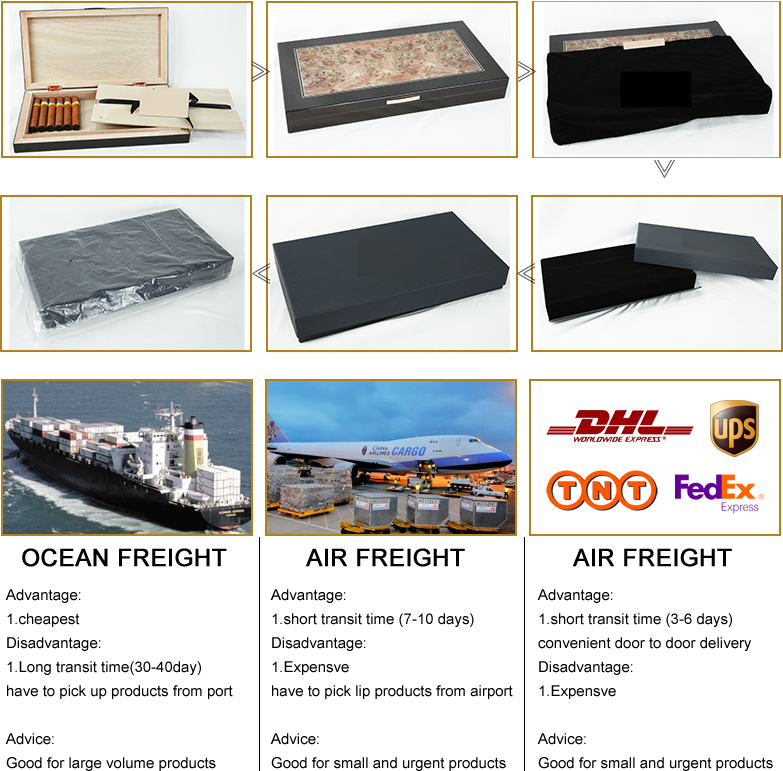 Company Information:
Dongguan creative packing co., Ltd is a comprehensive manufacturing and trading company established in 2007 in Dongguan city china number one manufacturing city.
we have over 14 years of manufacturing experience in this industry. and our company has independent import and export rights.
we are specialized in luxury package and design. our main products are wooden boxes, watch boxes, watch winder, humidor, etc.