It is up to you to find the best jewelry box for you. You want a lovely container for your precious accessories. You may want it to suit your style but be practical enough to store as much jewelry as neatly as possible.
It can be difficult to find the right jewelry box for you, especially if you're worried about how to organize earrings, watches, rings, bracelets, or necklaces. Let's take a look at a few factors to consider before buying your next jewelry box.
1.The Shape
Consider the shape of the jewelry box. The most common shapes for individual jewelry boxes are oval, rectangular, round, or square boxes, but there are many other options, such as diamond, heart, or shell. Note, however, that the standard shape is roomier than the more distinctive shape.
2.The Material
Wood is a good choice for jewelry boxes. It is durable, protects jewelry, and helps prevent moisture buildup, which can damage jewelry over time. Glass jewelry boxes are another option. Although they come in many different sizes, their designs are usually relatively simple and consist of a simple compartment. They are exquisite gifts because they are very fashionable and attractive, but they are more fragile than other types of jewelry boxes, so they are not the best choice for keeping jewelry for a long time.
3.The Size
Is it a piece of jewelry or are several pieces stored together? If you have a lot of jewelry and store them together, you'll need a larger box with lots of compartments for necklaces. In this case, choose a box with many compartments to make organizing your jewelry easier. If you have a necklace, make sure you have a jewelry box with an upright design and enough space to hang the necklace.
4.The Price
Spending more money doesn't necessarily mean you'll get a better product. As long as you check the quality of the items, you can find a jewelry box that fits each budget. It's always a good idea to buy high-quality items because you can use them for a long time, but if your budget is limited, you can find a jewelry box that is not bad value for money.
5.Aesthetic
Beauty is in the eye of the beholder, and the same goes for your jewelry organizer. Before you buy, consider your style. Do you want something modern or retro? Will it be proud of where you are in the room and become a topic of conversation, or will it be left quietly in the closet or behind the door? If the former, please consider the general decoration of your room. Consider practical factors, such as room space. Choose an item that complements your general decor and matches the rest of your furniture.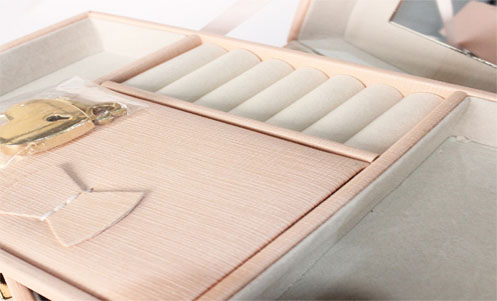 6.Do You Need a Lock?
It all depends on the type of jewelry you have. If your major purchases of costume jewelry are not very valuable, you may decide to store them with less secure organizers. However, if you have valuables to take care of, it's a good idea to buy jewelry boxes with locks. It will keep your items away from prying hands and eyes. On the other hand, every time you access an item, you need to unlock it.
But remember, a locked jewelry box will not protect your collection from thieves. There's nothing to stop them from going off with the jewelry, so if this is a major problem, consider using a safe.
Jewelry boxes come in many different shapes, styles, and varieties, whether you already own a lot of jewelry or just a few pieces and want to add to your collection with some custom jewelry box, finding the right jewelry boxes is part of the fun of owning jewelry and is an important aspect of its care and preservation. Jewelry boxes can also provide wonderful gifts for occasions. They also make beautiful gifts to help us organize our jewelry and ensure that it is not damaged or lost.
We are a jewelry box manufacturer. If you are interested in our products, please feel free to contact us.