It is a well-known fact that Spanish cedar is the first choice of humidor manufacturers when packaging and storing cigars. But why has fragrant wood become the industry darling of humidor paneling and humidor?
The most obvious feature of cedarwood is its aroma. Even if the wood in the humidor and humidor does not have a real cigar aroma, Spanish cedar has always been considered the perfect complement to tobacco's own bouquet. Since cigars were first commercially packaged in homemade boxes, they have been the material of choice. The name of the Spanish cedar itself is a bit misleading because, from a botanical point of view, the most popular cedar is neither cedar nor from the Iberian Peninsula.
True cedar is a member of the conifer family and has a strong inherent smell, while Spanish cedar (also called cedar) is a deciduous tree in the mahogany family of Central and South America.
The aroma, texture and intensity of color of cedarwood vary with the country of origin and the type of soil. The affinity of cedarwood and cigars is not only due to its subtle aroma. This tree is known under different names in different regions and is part of the local flora of many cigar producing countries.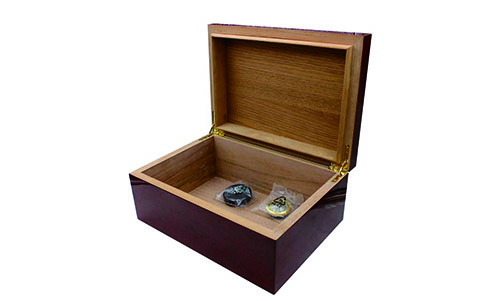 Spanish Cedar Wood Cigar Box
The Spanish cedar wood Cigar Box is easy to use, resistant to insects, and contains almost no resin (problems can occur during processing and cigar storage). Unfortunately, this uncontrolled logging of large tracts of trees caused a sharp decline in population.
In many Central American and Caribbean countries, this species is considered an endangered species, and the government has implemented strict laws restricting cedar logging. Due to varying degrees of success in forest replanting and restoration, the supply bottleneck of Spanish cedar is still common today.
The humidor is an excellent choice for beginners to cigar collectors. A good humidor can hold temperature and humidity and can hold the cigars the owner wants. We are also used to watching humidors in TV and movies (usually on the desk in the home study or office), so they become a good family accent.
They are usually sealed and can often be locked. They usually also include a humidification system to keep your collection tidy and one or two dividers to separate the storage from the humidity source. If you are looking for a way to store cigarettes, then a humidor is the best choice.