Cigar Box supplier shares this article with you.
1. Upman is the first brand to use a humidor
It is said that Upmann is the first brand to pack cigars inboxes. Upmann was born in a German financial family. Around 1840, the Hermann brothers convinced their father to open a bank branch in Cuba. Herman got a double benefit: Not only did the bank achieve remarkable success from the beginning, but Upmann's brother was a cigar lover-he moved to Havana. Soon after, Upman began shipping cigars from various factories in Cuba to Europe. He was the first non-Cuban to use his name as a cigar brand in Havana. The cigars at that time were made at the José Martí Factory in Cuba. Upman himself often printed his name in the cigar box as gifts for senior officials and close friends.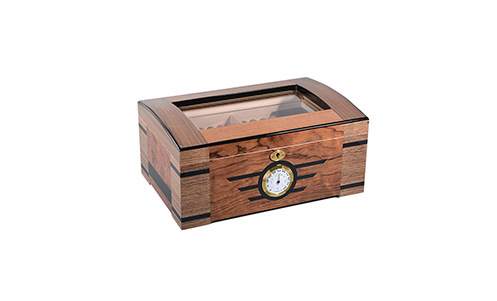 Cigar Box
2. The cigar box was authorized by the United States in 1863
In the mid to late 19th century, the number of Americans smoking cigarettes increased at an alarming rate, and the number of factories in the United States also increased day by day. At that time, there were not many government regulations governing the production of cigars. Therefore, the US government decided to formulate a set of policies on cigar production, packaging, and sales. At that time, cigar manufacturers were already selling their products in small wooden boxes (like Upmann). In 1863, the packaging of cigar boxes was made mandatory. The strict rules and regulations will be revised again in the next 24 months, which will limit the capacity of each box to 25, 50, 100, 250 or 500 cigars. Only glass or wood is allowed to be used for the materials of the humidor. A few years later, tin boxes were also allowed. In 1878, the government relaxed the policy. When creativity and wisdom broke free from the shackles of the law, novel cigar packaging sprung up one after another, and various packaging materials were also used, such as cardboard, plastic, aluminum and Brass, ceramics, leather, and other combinations.
Gradually, most of the cigars were packaged in a box, so taxes began to become standardized. In 1804, the tax on cigar imports from the Caribbean or Europe was $2/1000. Today, according to the Federal Alcohol and Tobacco Trade Tax Administration under the U.S. Department of the Treasury, there are also many cigars with a tax rate of 52.75% of the sales price at $402.60 /1000 is the upper limit.